Magazine Adaptors


Loading...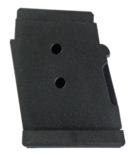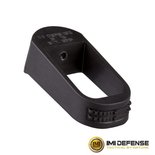 IMI Defense Extension Adapter Glock 19/23/32/38
The IMI Defense Magazine Adapter allows using full-size magazines in compact or sub-compact pistol frames. The adapter slides down the magazine and creates a flush fit when the magazine is fully seated. Made from high quality reinforced polymer for light weight and durability. When full sized magazines are used with mini Glocks the Extension fills the gap between the bottom of the gun and the base of the magazine allowing the user to add an additional length for the grip. This useful addition helps eliminate flinching and increases comfort and accuracy giving the shooter the grip and feel of its larger counterpart. Easily installed or removed, they work equally well with any full-sized magazine, 10 round or Hi-Capacity. The Grip Extension will adopt a G17,22,31 magazine to fit a G19,23,32 pistol, it also works on a G37 magazine to fit a G38 pistol. Fits: Glock 19| Glock 23| Glock 32| Glock 38 (fits also Gen.4 AND Gen.5)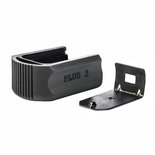 Mec-Gar Polymer Plus2 Floorplate
Mec-Gar Polymer Plus2 Floorplate for the Beretta 92/96, CZ 75/85, Sig P226, Taurus PT, Witness SF and Tanfoglio SF. Simply exchange the original one for this one and have room for 2 more rounds.
Contains:
1 – Polymer "Plus-2" magazine extender
1 – Phosphate steel locking plate, heat-treated